The problem
Why do you need a DIY SEO software for your small business? As a small business owner, there are a lot of expenses that come along with running your business. Since COVID 19, some businesses are on the brink of failure. A business owner has to find ways to get a big ROI on software or services that can help them succeed. One of the most important aspects of a business today is internet marketing. Internet marketing can cost thousands, and I don't mean a one-time fee. It can be thousands a month.
There is a lot of DIY SEO software available for business owners wanting to handle their SEO on their own in order to save money. Some of the platforms can be a bit pricey which isn't too helpful for a small business or start-up. Some of them are more helpful than others. While there are ones that are effective and does not break the bank while making it easy for anyone to handle.
What is SEO?
SEO stands for Search Engine Optimization but you already knew that otherwise, you wouldn't be here. But did you know that SEO is a better source of traffic than running paid ads? Many times businesses will focus more on paid ads than SEO but the problem lies with the ad platform. If an ad platform makes changes or anything is changed in how that ad platform targets your audience, it would impact your business. Let's take the recent IOS privacy update. This update prevents platforms like Facebook from getting information about you. This was a major issue in their ad targeting platform. Many online businesses lost traffic, sales, and leads because of this. SEO on the other hand will continue to bring organic traffic as long as you nurture your SEO campaign.
Can I do the search engine optimization for my website myself?
You can most definitely handle your search engine optimization yourself. Before jumping in, I would recommend understanding at least the basics of SEO. We will brush the surface a little shortly. There are many platforms that make it easy for a website owner to handle their own SEO.
Which DIY SEO software should I use?
Our preferred SEO software for small businesses is MarketGoo. Here are the reasons why.
Ease of use
Understanding how SEO works is a daunting task as it is. Although many blogs and videos will go over the basics, they leave out parts that are important. MarketGoo simplifies the process to a point where it's almost like a step-by-step wizard. Their simple and clean dashboard helps with information overload that helps to prevent intimidation. SEO is a job in itself and there are a ton of tools that are needed. A platform that has all these tools need to be clean and user friendly.
Low monthly cost
The cost of hiring an agency to handle your SEO can cost between hundreds to thousands. It's very tricky for small businesses to afford that bill on a monthly basis. The highest plan MarketGoo offers is less than $20 a month.
Effective
The steps MarketGoo offers for optimizing are extremely affective. We've seen great results when optimizing only a single page.
Steps to using the MarketGoo diy SEO software tool.
As we mentioned, we will brush the surface of the things you should know before starting your SEO journey with MarketGoo.
Start your SEO plan
Once you're logged in, the platform with present your SEO plan. This is after your website has been analyzed. The task can include adding your competitors and fixing broken links to name a few.
MarketGoo DIY SEO tool helps with keyword research
Keyword research is an important part of SEO. Thankfully, MarketGoo makes this step extremely easy. Type in the keyword that you would like to rank for and MarketGoo will provide suggestions. You never want to go with the original keyword because it's most likely very broad. Also, you may have to find synonyms for the word. This task aims to find a keyword with low competition. Easy competition means it's easier for you to show high on search results. You'll want to pay attention to the search volume tab. It's extremely important that your keyword is easy to rank for and has a high enough search volume.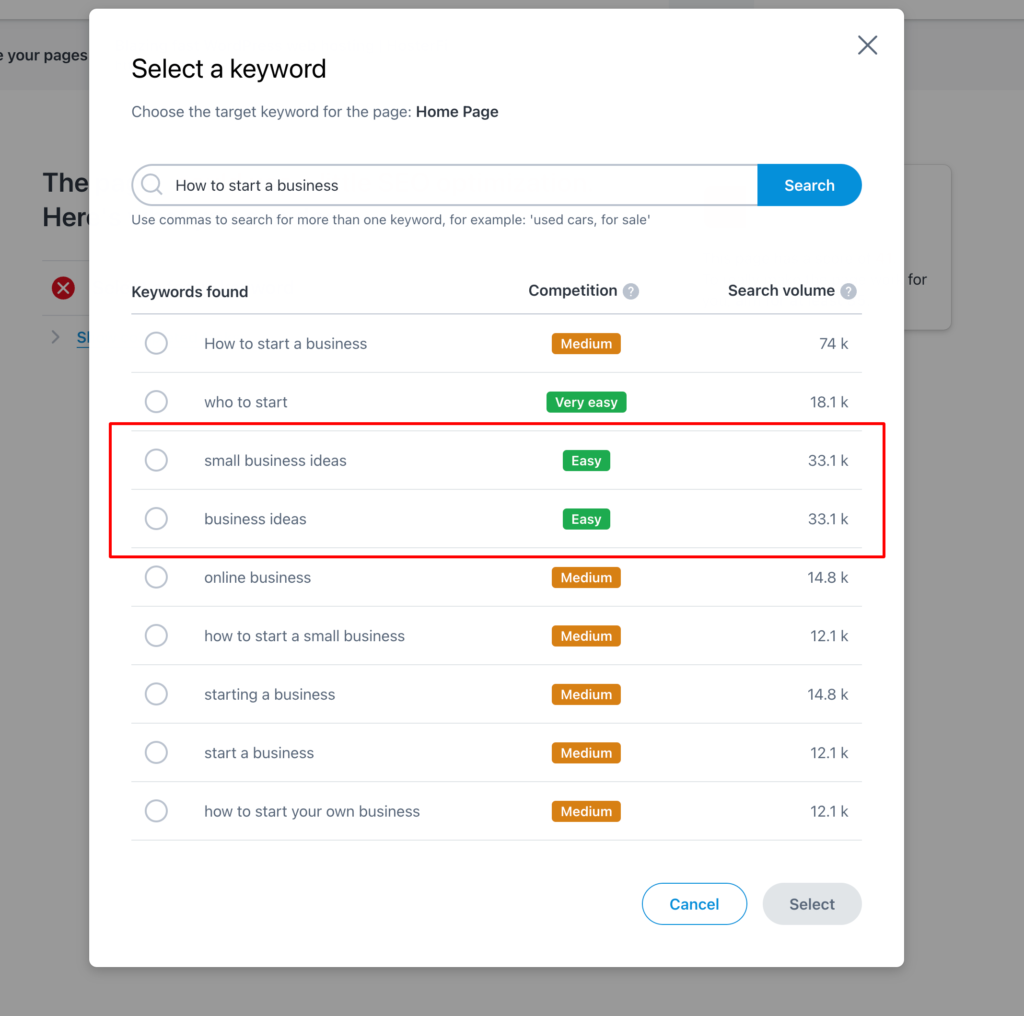 A note on business type: If your business has a brick-and-mortar, it's always a great idea to start with local SEO. It's much easier to rank high with local SEO since there isn't as much competition compared to national SEO.
On-page search engine optimization is important when using DIY SEO software.
After you've found the keyword that you would like to rank for, the next step is optimizing your page for that keyword. Notice, I said page, not the website. Each page within your website has to be optimized individually but should have relevance to your keyword, including blog posts. Example: If your website is selling used cars, you wouldn't create a page talking about real estate.
The MarketGoo platform makes handling a site audit very easy and will give clear direction on what needs to be changed and helps to clear up SEO issues with a list of SEO tasks for you to do. This includes optimizing your content which is what you would have to pay a digital marketing specialist to do.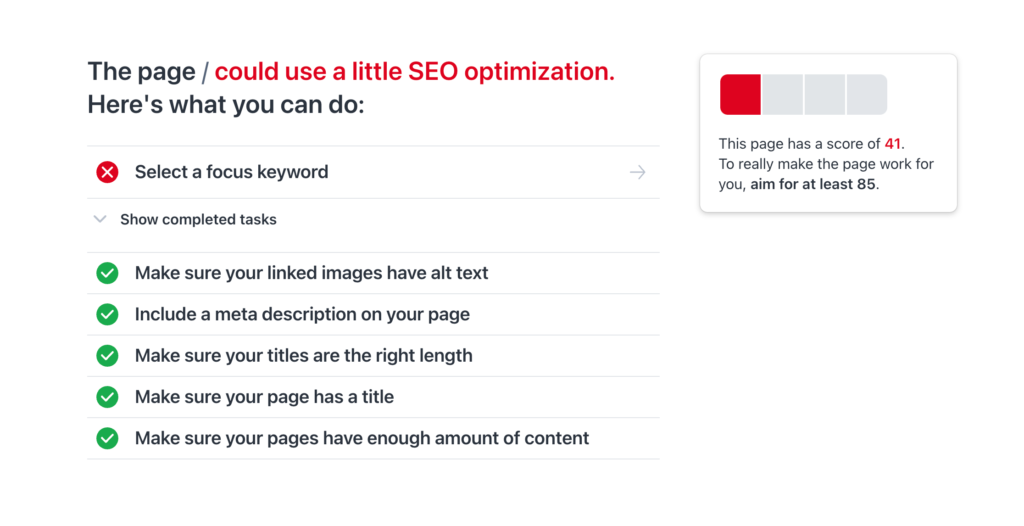 We used the Optimization tool on our sister company MageHD and we did in fact see results.
Tracking your progress
Tracking your progress is always important. How else would you know if your search engine optimization campaign is working? MarketGoo will send you monthly reports on how your website's ranking status. Combine this information with Google Analytics and Google Search Console and you should be in the right direction to track your progress.
Peeking at your competition.
It's always a good idea to see what your competition is doing. In this aspect, you don't want to use big brands as your competition. You want to use smaller brands that are in the same industry. The idea is to see what keywords your competitors rank for in the search results and get ideas for your own keywords. You may even be able to use their keywords if other SEO-related metrics are met.
Backlinking
Backlinks are websites that link to your website that is recognizable by search engines. These are important because Google and other search engines will pay attention to a website's popularity. If you have an increase in backlinks on a monthly basis, Google will recognize this and pay more attention to your website. I'm not going to go into any more details mainly because you will get confused. Just understand the more websites that link to your website the better. If they're using the keywords you've chosen to link to your website, that's even better.
Tracking Backlinks can also be done in MarketGoo. Creating backlinks is more of a manual job which is why I would recommend hiring an agency to at least handle that part. As a business owner, your time is extra precious so it should be used wisely.
I would really like to know how to gain more backlinks
As I mentioned, gaining backlinks is a manual job. Some methods of gaining backlinks are.
Guest posting on websites related to your industry
Inviting writers to be guest writers on your blog.
Responding to forum questions that involves a subject you've written about in a blog.
Press releases
When creating backlinks get creative. Find forums talking about things related to your keyword, respond to a post that's relevant and link to your website. Keyword Relevant. Google will recognize if a website is irrelevant to your website. After all, that's one of the major factors of ranking. Relevant keywords.
Conclusion to DIY SEO Software
DIY SEO for small businesses is not a difficult task as long as you have the right do-it-yourself SEO tools. You don't always need experts in the field to handle the tasks mentioned at the beginning of your marketing journey especially if you're a start-up.
If you would like an entry-level platform that's cheap to get into. MarketGoo DIY SEO Software is the way to go.
About Post Author